Southeastern Georgia Timberland Auction - SOLD

6,220± Acres Offered in 106 Tracts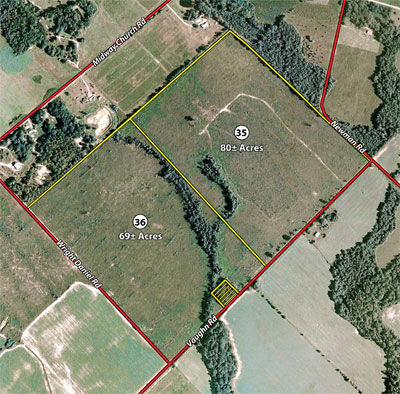 Session C: TRACTS 35-36C
Pulaski County, GA
CMP 1-41
Tracts 35-36 • 149± Acres
Tract 35: 80± Acres. This tract has frontage on Studstill Road and Vaughn Road and supports 4 year old loblolly pine.
Tract 36: 69± Acres. This tract of 4 year old loblolly pine has frontage on Vaughn Road and Wright Daniel Road.
GPS Coordinates:
32 10 19.25 N
83 19 58.76 W
Directions: Tract 35-36 • PULASKI COUNTY
From Eastman, Georgia: From the intersection of Route 341 Business and Route 341 on west side of Eastman, go north on Route 341 for 1.1 mile. Turn left on Orphan Cemetery Road and go 3.5 miles. Turn right on Mt. Annis Church Road: Go 1.4 miles on Mt. Annis Church Road and turn left on to Old River Road. Go 0.3 miles to 5 way intersection. Turn left at stop sign on to Log Cabin Road. Go 1.4 miles and turn right on to Studstill Road and go 0.5 miles to intersection of Studstill Road and Bell Wrye Road. Continue on Studstill Road for 0.5 miles to corner of tract 35. Tract 35 fronts on Studstill Road. Make left on to Vaughn Road for addition tract 35 frontage. Continue on Vaughn 0.3 miles and tract 36 will be on right. Continue on Vaughn to the intersection of Wright Daniel Road and turn right on Wright Daniel Road for additional frontage for tract 36.