Southeastern Georgia Timberland Auction - SOLD

6,220± Acres Offered in 106 Tracts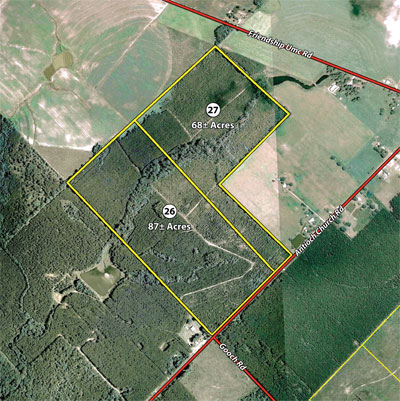 Session C: TRACTS 26-27C
Dodge County, GA
CMP 1-24
Tracts 26-27 • 155± Acres
Tract 26: 87± Acres.
Tract 27: 68± Acres. These are excellent tracts with predominately upland soils and road frontage on paved Antioch Church Road. The timber is mostly 8 year old loblolly pine. These have the potential for a rural estate. Irrigated farmland to the northwest and tillable land to the southwest indicate productive soils.
GPS Coordinates:
32 15 54.95 N
83 19 13.69 W
Directions: TRACTS 26-27 • DODGE COUNTY
From Hawkinsville, Georgia: From the intersection of Route 230 and Route 341 in Hawkinsville go south on Route 341 for 6.2 miles. Turn left on Fourteen Lane Road which changes to Antioch Church Road and go 3.5 miles and tract 26 begins on the left. Continue 0.2 miles for tract 27.
From Eastman, Georgia: From the intersection of Route 341 Business and Route 341 on the west side of Eastman, go north on Route 341 for 10 miles and turn right on Fourteen Lane Road. From there follow previously described directions.