Southeastern Georgia Timberland Auction - SOLD

6,220± Acres Offered in 106 Tracts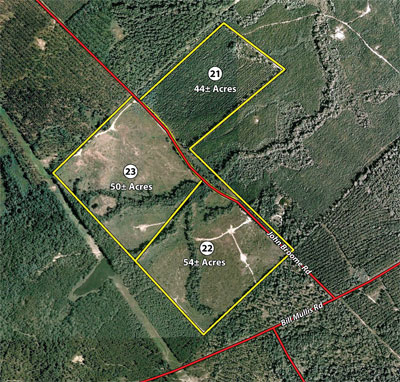 Session C: TRACTS 21-23C
Dodge County, GA
CMP 1-20
Tracts 21-23 • 148± Acres
Tract 21: 44±Acres. This tract has easy access with an excellent stand of 8 year old loblolly pine. Excellent drainage, productive soils and elevation make this a great timber investment tract.
Tract 22: 54± and Tract 23: 50± Acres. These tracts support a recently established plantation of loblolly pine with a long frontage on John Broome Road.
GPS Coordinates:
32 18 54.39 N
83 14 58.35 W
Directions: TRACTS 21-23 • DODGE COUNTY From Eastman, Georgia: From the intersection of Route 341 Business and Route 23/87 in Eastman, go north on Route 23/87 for 9.7 miles. Turn right on Bill Mullis Road and go 1.9 miles. Turn left John Broome Road and go 0.1 mile and tract 22 is on the left. Continue 0.2 miles and tract 21 is on the left and tract 23 is on the right.