Southeastern Georgia Timberland Auction - SOLD

6,220± Acres Offered in 106 Tracts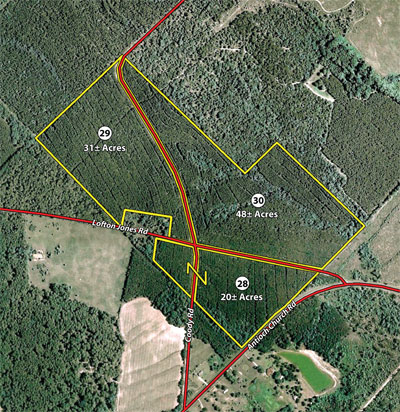 Session C: TRACTS 28-30C
Dodge County, GA
CMP 1-23
Tracts 28-30 • 99± Acres: These tracts have significant road frontage with good elevation for great views. Combined with upland soils these recently harvested tracts could be converted to pastureland.
Tract 28: 20± Acres.
Tract 29: 31± Acres.
Tract 30: 48± Acres.
GPS Coordinates:
32 15 31.60 N
83 20 25.74 W
Directions: TRACTS 28-30 • DODGE COUNTY
From Hawkinsville, Georgia: From the intersection of Route 230 and Route 341 in Hawkinsville go south on Route 341 for 6.2 miles. Turn left in Fourteen Lane Road which changes to Antioch Church Road and go 2.0 miles and turn left on Coody Road. Go 0.1 mile and tract 28 is on the left and right. Continue through intersection of Lofton Jones Road and tract 29 begins on the right and Tract 30 begins on the left. Tract 28 also has frontage on Antioch Church Road.
From Eastman, Georgia: From the intersection of Route 341 Business and Route 341 on the west side of Eastman, go north on Route 341 for 10 miles. Turn right on Fourteen Lane Road. From there follow previously described directions.