Southeastern Georgia Timberland Auction

6,220± Acres Offered in 106 Tracts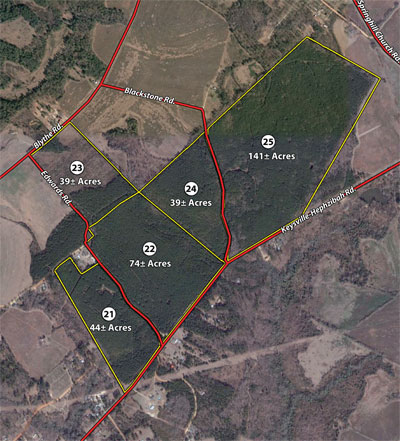 Session B: TRACTS 21-25B
Burke County, GA
CMP 1-20
Tracts 21-25 • 337± Acres These are nice upland tracts with lots of road frontage on multiple county roads offering opportunities for potential building sites as well as future timber income. These tracts support recently thinned stands of 18 year old loblolly pine.

B-21: 41.2± acres
B-22: 77.9± acres
B-23: 38.7± acres
B-24: 37.9± acres
Tract 25: 141± Acres.
GPS Coordinates:
33 16 24.23 N
82 11 48.53 W
Directions: TRACTS 21-25 • BURKE COUNTY From Keysville Georgia ( east of Wrens): At the intersection of Route 88 and Route 454 (Martin Luther King Jr. Road which changes to Keysville Hephizbah Road), go north on Route 454 (Keysville-Hephzibah Road) for 3 miles and tract 21 will be on left. Continue 0.1 mile and tract 22 will be on left. Turn left on Edwards Road for additional frontage for tracts 21 and 22 and continue 0.4 miles and tract 23 is on the right. Tract 23 also has frontage on Keysville Road. From the intersection of Keysville-Hephizbah Road and Edwards Road continue 0.3 miles and turn left on Blackstone Road. Tract 24 will be on the left and tract 25 will be on the right. Tract 25 has additional frontage on Keysville – Hephizbah Road.